We kicked off 2020 with a number of major updates to SpiderFoot HX, with many more planned throughout the year. Read on for what went live and what's coming up over the next few months…
Scan by username
You probobably know that SpiderFoot HX enables you to scan by hostname, domain name, e-mail address, IP address, IP subnet, ASN, phone number and a person's name. Well now there's a new addition; usernames.
This means that if you know the typical username your target uses, you can scan it using SpiderFoot HX the same as you would a person's name – just wrap it in quotes (for example "binarypool"), start the scan and within minutes you'll find all the social media accounts and other associated data with that username.
Investigations graduates to beta!
Much hard work has been invested into improving and stabilising the Investigations pillar of SpiderFoot HX, plus in the latest update you can better manipulate the graph to focus on the data that matters for your investigation.
Graph visualisations have also been standardised across all of SpiderFoot HX, so this functionality is not just available in Investigations but all node graphs throughout the platform.
Keep note that Investigations remains free and unlimited for all users while in Beta but once out of Beta in mid-February it will only be available to paying subscribers.
Monitoring improvements
We received feedback that it would be really handy to see the status of a last run scan easily when viewing the list of Monitors, so that's been implemented!
Also in response to feedback, you can also now force-run a Monitor by clicking on the edit icon for the Monitor and ticking the checkbox and 'Update' to force-run the scan. The Monitor will run shortly thereafter (and again on the next scheduled time, unless one is already running).
Optional name scanning of Dark Web sites
Any human name that is identified during a SpiderFoot scan will by default result in a search across the dark web for that name if you enabled dark web modules for that scan. Searching for names can now be turned off for each dark web module if you so wish. Simply go to the module settings for Ahmia, Darksearch, Onionsearchengine.com, Onion.link and TORCH modules to toggle this feature.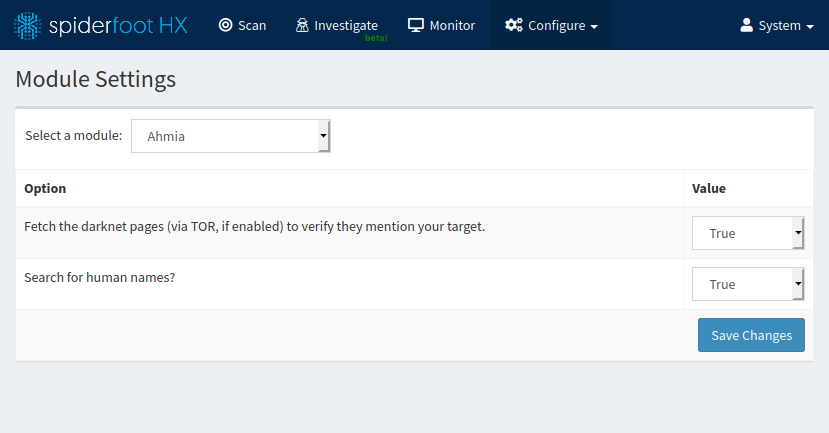 What's coming in 2020…
We're incredibly proud to see the volume of demand that's followed our launch in mid 2019. SpiderFoot HX now has over 8,000 users and has subscribers among the Fortune 500, in addition to government, NGO, cyber-security start-ups, boutique penetration testing firms and "big 4" consultancies across the globe.
In 2020 we intend to continue growing the capabilities of SpiderFoot HX in the following areas among others:
Screenshotting of dark web, social media and other content so that you don't lose that snapshot-in-time view.
Keeping up with the continued growth of available OSINT by introducing more modules.
More sophisticated data navigation, searching, filtering and visualisation.
Introducing the dimension of time so you can identify that critical point in time where an attack may have started, or when your organisation's perimeter became exposed
As usual, if you have any feedback, just ping us at support@spiderfoot.net. We're always very happy to talk with you about your experiences with the product and hear how we can make it more useful.